About Us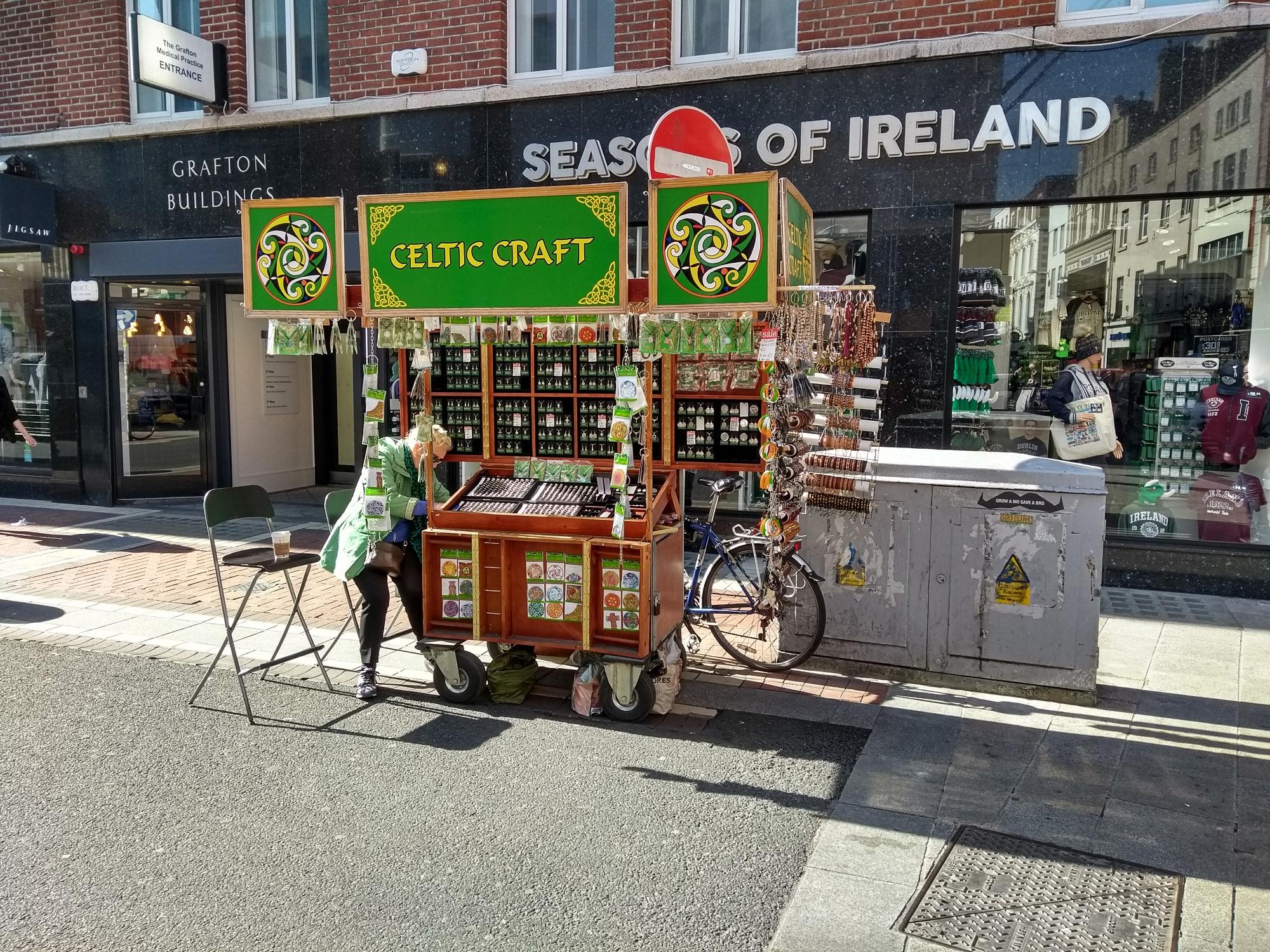 Cool Celtic Jewelry grew out of our Celtic Jewelry and Celtic Fashion Accessories Street Trading Cart (called, 'Celtic Craft'), trading on South Anne Street, adjacent Grafton Street, Dublin's tourist district, in Ireland. In Ireland, street traders have the pulse on what is 'Cool' in Jewelry and Fashion Accessories and over the years our Celtic Stand has expanded from just selling Celtic Sterling Silver Jewelry into Celtic Fashion Bracelets, Celtic Fashion Pendants, Celtic Chokers, Celtic Semi-Precious Stone Pendants, Celtic Hairslides, Celtic Patches and Viking Products.
Irish people are raised with Celtic Patterns and they know, instinctively, from years of experience of Celtic Patterns, which are nice Celtic Patterns and which are not. Cool Celtic jewelry has used this knowledge, and is continuing to use this knowledge, to pick the best of Celtic Designs in Celtic Jewelry and Celtic Fashion Accessories from suppliers of Celtic products. In many cases we develop our own Celtic Jewelry and Celtic Fashion Accessories from Celtic Patterns that we have in stock. This has led to many of our own creations in Celtic Bracelets, Celtic Pendants, Celtic Semi-Precious Stone Pendants, and Celtic Patches. We hope you think that they are 'Cool'.
We hope that our prices aren't too expensive. There is Free Shipping included in the prices and we export to the UK, Europe (specifically the EU), USA, Canada, New Zealand and Australia.. So far we are not VAT registered, as our Sales hasn't reached any of the Thresholds for VAT, when it does we will change our pricing structure to include VAT. We restrict our payment mechanisms to Paypal and Amazon Pay so as our customers can feel secure that we don't hold their credit card details and that this information continues to be secure with Paypal and Amazon Pay. (Update Note: I will have to delay setting up Amazon Pay until I can arrange new bank accounts and email addresses).
Feel free to browse our website and explore our products. We hope that you will find something that you will want to own or buy for a friend. Our products make excellent gifts and all our Celtic Sterling Silver Jewelry comes boxed and is sent by registered post/recorded delivery to ensure that it arrives safely. It has made the Celtic Sterling Silver Jewelry a little more expensive, than we retail on our cart, but we think that the security of registered post/recorded delivery is worth it.
Our Pricing Structure
There are many ways to make a profit with an ecommerce shop. Having worked out your costs for a product you can then charge a big percentage profit and likely have small sales. Or, you can charge a small percentage profit and hope to have big sales. Or, as an alternative to percentages, you can add the same, more or less, fixed minimum profit to all products.
We have chosen the last option as it takes as much time to pack and post an expensive item with a fixed profit margin as it does a cheap item with a fixed profit margin. Now what this means is that items which are cheap, to begin with, like Celtic Fashion Accessories are relatively expensive on this site, if bought individually, but to reduce the price we offer quantity discounts (because it is almost as easy to pack and post two or three items to a single address, as it is to pack and post one item), with of course free shipping. It also means that very expensive items, like expensive Celtic Sterling Silver is probably very competitively priced, even with including registered post/recorded delivery, as the fixed profit margin would be lower than a percentage profit margin on the purchase price of such items. But, it also means that we are unlikely to offer a website wide sale at any time during the year, because we are on a low fixed profit margin.
So, having explained how our pricing structure works, HAPPY SHOPPING ! , and use our pricing structure wisely to get the best possible deal, for yourself, or as whatever suits you.
P.S. That is my mother serving at the Cart in the picture, above. She is currently, 91 years of age and enjoys selling on the street. She wears sunglasses because her eyes water excessively and the large glasses block the wind from making the problem worse. The reason why there are no people about, is that the picture was taken early in the morning.
In 2015, our Cart was visited by a Ukraine/Russian Tourist TV Programme. The programme interviews my mother which occurs about 8 minutes into the programme. The interview lasts about 2 minutes. Some of it is in English. So if you would like to see a my Mum on video at our Cart, here is the video, just remember to forward the video to a little under 8 minutes to see my Mum,